Amateur Togishi
Staff member
Joined

Aug 25, 2018
Messages

60
Let's kick this collection area off right! Here is the Japanese-specific portion of my collection. Enjoy!


Antiques

Osafune Masamitsu Tachi
. Signed "Bishu Osafune Masamitsu" and dated 1390 AD by the famous Bizen smith Osafune Masamitsu. Masamitsu was one of the greatest students of Osafune Kanemitsu who was one of Masamune's great 10 "Jutetsu" and the founder of the Soden Bizen style. This style seamlessly blended the Soshu elements of Masamune and the Bizen grand master Kagemitsu (who was Kanemitsu's father). Osafune Masamitsu had extant works spanning 40 years and has 48 pieces that are Juyo Token. This is an absolutely flawless Tachi representing his later career as he returned to the stylistic elements of the Kamakura period versus the massive blades typical of the Nanbokucho period. This blade is papered by both the NBTHK and NTHK. Suspended seashell in lacquer tachi mounts with signed tsuba and gold inlay/foil fittings.
Jirozaemon (no) jo Katsumitsu O-Wakizashi
. Bizen koku ju Osasufune Jirozaemon (no) jo Katsumitsu was one of the greatest smiths of the Oei-Bizen period. Son of the grand master Ukyo no suke Katsumitsu, Jirozaemon had an active period in the early 1500s. He was ranked Saijo-saku (grand master) and his blades were ranked Ryowazamono for their famed cutting ability. This Smith worked during the warring states period of Japanese history when many blades were mass produced and famed smiths' had their works forged by others, yielding many gimei that claimed famous names. This blade has been verified shoshin by the NBTHK and represents the signature style of Jirozaemon's early works according to the Keikan Mei. Dated to February in the first year of Eisho (1504 AD), it is unclear whether this blade is a clear wakizashi or was originally an uchigatana for a smaller stature samurai. Uchigatana were in vogue during this period of time, sporting shorter blades and nakago (tangs) which were mounted for use in a single hand. This blade sits at 23" in length and could have been either an uchigatana or a wakizashi, originally. We'll never know! Nonetheless, the beauty of this blade is irrefutable. Accompanied by Edo period koshirae including intact kozuka and kogatana as well as coral suspended in lacquer saya.
Mutsu Aizu Unju Kanetomo Katana
. This blade dates to the Shinshinto era and is in its original koshirae also dating to late Edo period. Both blade and koshirae are papered by the NTHK (blade is rated kanteisho and koshirae is rated shinteisho). Forged in 1861 just prior to the Boshin war signifying the sunset of the samurai. Kanetomo was a smith working in Mino province and he was the last of the Kanetomo line. Blade has a very tiny kirikomi (battle nick) on the ura side. Has no structural impairment and in fact demonstrates this blade was used in battle. Blade is ubu (not cut down) and mumei (unsigned).
Mutsu no Kami Tameyasu Wakizashi
. This is presumed to be Ishido school (specifically Kii Ishido). Approximately 350 years old. I think the big debate is whether the sayagaki (stating "Bichu no Kami Yasuhiro") is correct and this is by Yasuhiro or whether the sayagaki is incorrect. My current thinking (and Aoi Japan's) is this blade is actually Yasuhiro's older brother Mutsu no Kami Tameyasu. 2nd generation Tameyasu shared traits with his brother but had the Ichimonji style hamon and flamboyance from his father's work. The father was one of the founders of the Kii Ishido school based in Osaka. The two brothers became key and notable early smiths from this school and their work is oft indistinguishable aside from Tameyasu's tendency to have more flamboyant Ichimonji like activity in his blades' hamon.
Unknown Wakizashi
. No idea what this is yet though I suspect Shinto. Better pics and more info coming as I learn more.
Kaga Ko-wakizashi
. Length right on the border defining tanto/wakizashi. I believe given overall sugata this is a wakizashi (probably best called a ko-wakizashi). Approximately 300-400 years old. I am waiting to get this one polished (presuming it can be)at which point a shirasaya and habaki will be made for it. The blade has some significant pits on the ura side so it is unclear whether this blade can be brought back. The investment was small however and at worst it makes a good study piece and/or polishing project (which I would never do unless I can confirm a togi cannot resurrect it and it can never be papered).

Modern Swords
HSTS - Custom Katana. One
of my favorite reproduction katana. Differentially hardened 1095 steel with a good spring to help prevent taking a set. Excellent edge geometries. Very tight alternating ito with hishigami. Great cutters that have held up flawlessly.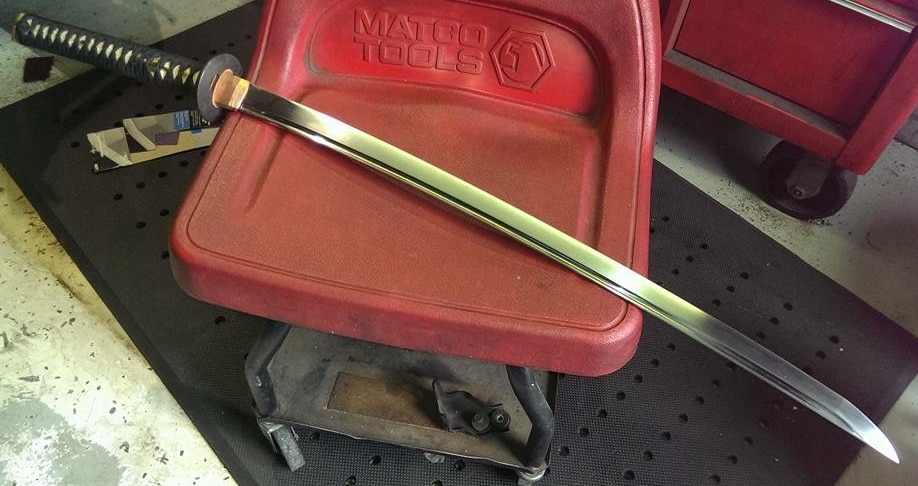 HSTS - 1095 Budget Cutter Katana
.
HSTS - 1095 Budget Cutter Katana
.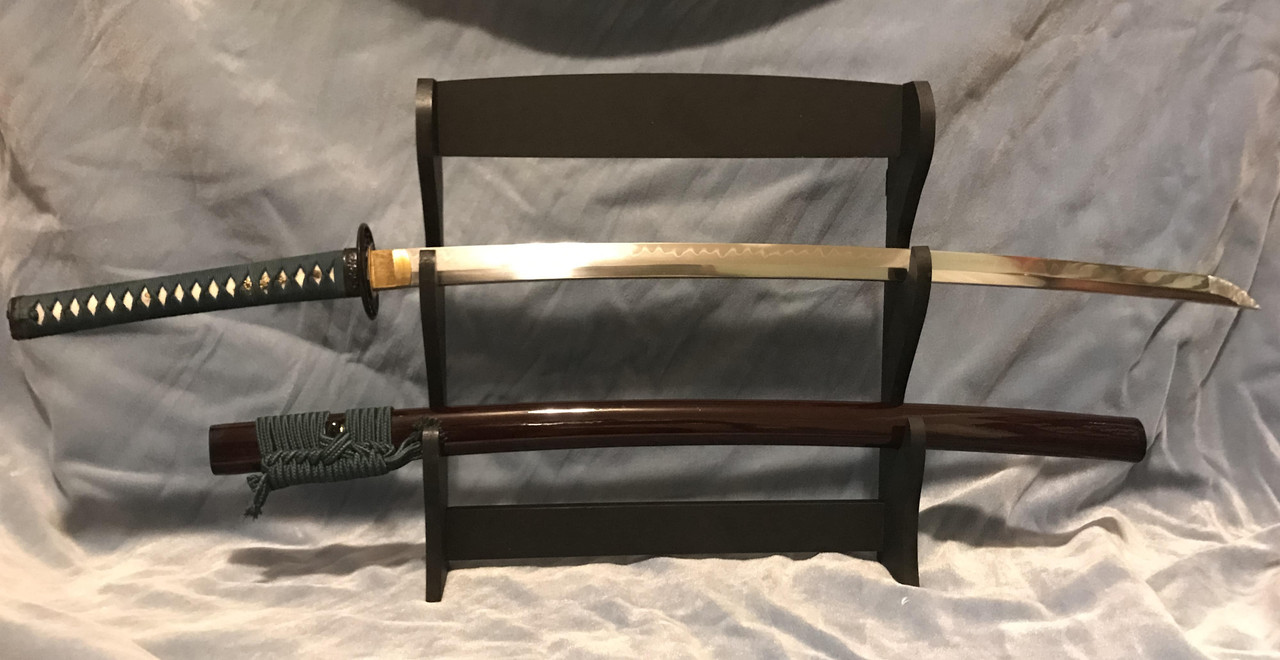 Hanwei - Shinto Katana
. Early 2000s model that was originally a shirasaya no-bohi version purchased by Sanmarc Forge. It then underwent a complete revamp by SlavEdge including a hamon re-etch and a longer custom tsuka. This blade cuts like a freaking LIGHTSABER. I LOVE this sword. Sanmarc loves Shintos so much he went out and bought a Manchurian steel prototype one.
Huawei - T-10 Katana
. Not their highest end model, but a decent middle of the road one with "geometric yakote" (don't get me started, as I own multiple nihonto and what most forges call geometric yakote are not exactly correct, yes technically they have a geometry change, but definitely NOT exactly historical in correctness). A fabulous blade with a gunome/midare hamon and hishigami itomaki. Razor sharp and is a wonderful cutter that has held up flawlessly.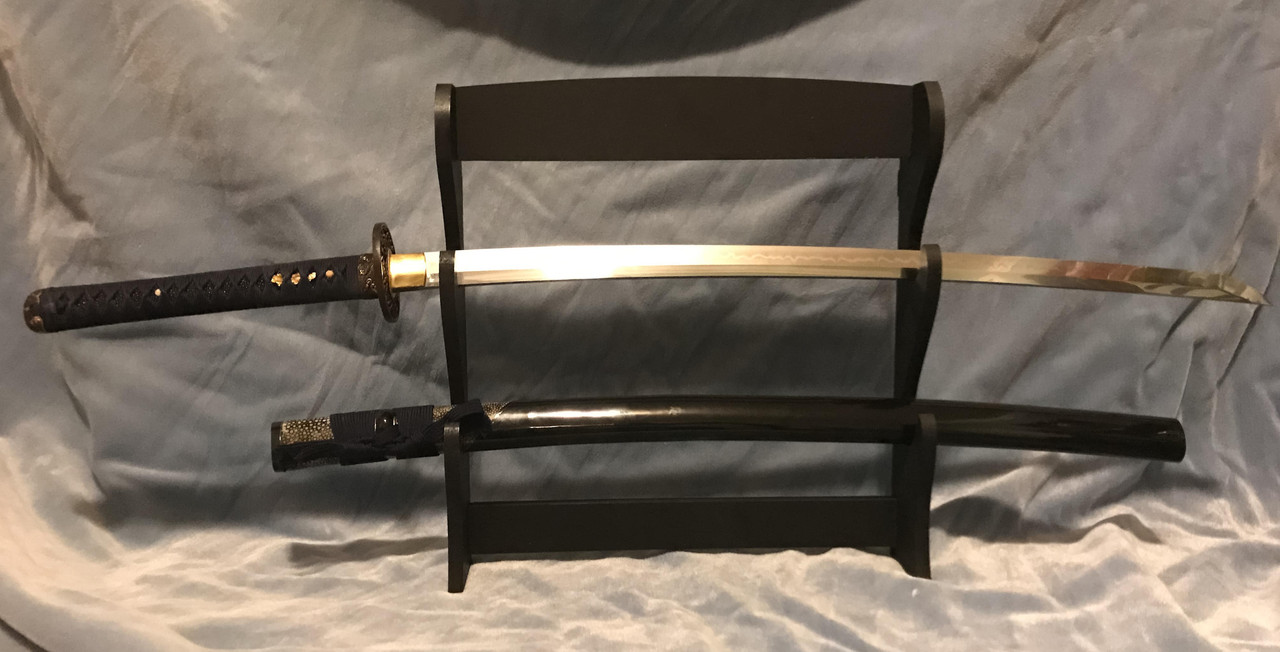 Kawashima - Ko-Katana
. Unclear yet on manufacturer but clearly a higher end blade when compared to other reproductions. I'd say of equivalent quality to a high end Paul Chen or such. It's mono steel of some kind, from the luster I'd say probably 1095. The tsuka is well executed and ito is tight. The saya is well made and fits the blade perfectly and is accented with a nice rattan wrap that is lacquered. If anyone knows what this might be I'd love to hear opinions. I am currently thinking this is a Kawashima of some sort. Possibly a custom Kawashima.
Daishos
St-Nihonto - Custom Daisho
. I wanted a handachi daisho and thought I'd give St. Nihonto a try. I find the blades to be decent T10 steel, but man.. the tsuka are NOT good.. these will be rehilted at some point.. The saya are nice, with horn accents, but the tsuka circumference is WAY too small, and the tsuka construction is just NOT well done. The fittings are garbage and the ito is not great (but is alternating). I paid $600 for the daisho so $300 basically per sword (or $350/$250 breakdown however you want to divvy the cost between the two swords). I should have gotten bare blades and habaki and done the rest myself or had someone else do it... but.. very nice handling swords. I have no issue with the blades, habaki and saya. The tsuka and fittings though.... man...
Ten Ryu - Daisho, Katana (model TR-004) and Wakizashi (TR-005)
. Personally my favorite sub $150 katana (these sell for about $125) and Wakizashi for under $100 ($85 current price). AISI 1045 differentially hardened steel so not the hardest, however, there are some details (most specifically the actual (magnetic) iron musashi style Tsuba which you NEVER find at this price point, a pretty decent hamon with lots of activity and while 1045 the heat treat seems solid. I've done lots of cutting with these and they are holding up VERY nicely.
Last edited by a moderator: